WHAT OUR CLIENTS ARE SAYING AROUND THE WEB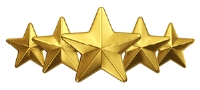 YELP Five Stars!
"Bob Beauchamp is an awesome attorney. After spending a year and a half and thousands of dollars on another attorney who could not accomplish anything toward getting my divorce resolved, I found Bob and he graciously took over my case in a time crunch and wrapped up my divorce in a matter of days. He made himself available to answer any concerns I had, he listened to what I had to say, and put together a proposal and subsequent judgement that was fair, allowing me to move on with peace of mind. I will recommend him to anyone looking for an attorney who is extremely smart and knowledgeable, and just as important, who really cares about his clients." 
Posted by: Tina L. on Yelp 2/17/2015 Five Stars
YELP Five Stars!
"I had to sell my business in Mission Viejo before I moved to Honolulu.  Robert helped me with that process which he was able to complete partially after I left California.  He was very good at keeping me informed and was very honest with me at each step.  I recommend him highly!" 
Posted by Brenda G. on Yelp 9/4/2014 Five Stars
YELP Five Stars!
"Bob is who we use for all of our lease agreements on the retail properties we sign. He's great. Very thorough and fast to get it done which is nice since the clock is ticking on those things. He's a pretty cool guy too (yes, this is important). We used him for our Palmdale CA location and again for our Maple Grove MN lease." 
Posted by Abbey J. on Yelp 9/9/2014 Five Stars
YELP Five Stars!
"I have been married for over 30 years. My wife and I got into a nasty fight over 10 days ago and I needed a lawyer. I immediately went to Yelp for direction, and glad I did.  I found Mr. Robert Beauchamp with great reviews from Yelp. His specialties are family and married law.
Well, this man really cares about you, not in to it for the money like 98% are. We actually had calls on Saturday to discuss my matter.
I can't say enough about this caring person with a great personality as well.He went to court and handled my matter without me being there for a great price.  I was so scared and Robert put me to ease.
Now my wife and I are best friends again. 
Posted by Steven R. on Yelp 11/17/2014 Five Stars
Google Five Stars!
Bob Beauchamp has been my lawyer for many years. I use him for all the basic stuff (wills, contracts, etc), but, as happens in most people's lives, junk happens. In my case, the junk was a class action law suit against a former employer that should have included me but didn't.  This was about the company expecting salaried (exempt) employees to consistently work long hours and weekends, and to be always on-call, even while on vacation. I was a project manager (PM). Managers were excluded from participating, but, as everyone knows, project managers are almost never "real" managers. And, so, all the PMs were excluded from the class even though they were treated the same was as the other employees. By the time I learned about the issue, it had already been settled out of court.  I took the problem to Bob and asked him to get into the middle of it. He did, and, after some push back from the other lawyers, and Bob's abilities to show them the light, I and my fellow PMs were allowed to participate. It was a very nice day.
Michael G.  Google
YELP Five Stars!
"I hate lawyers so I was not happy to need one when my ex and I split. I own property in New Mexico that i inherited and a home in RSM with my ex. I also work in both New Mexico and California. So my divorce was complicated and I couldn't be here in California much of the time. I had to trust my divorce attorney. My first divorce attorney was non-responsive and really accomplished nothing more than charging me a fortune. A friend referred me to Robert. He took over my case, called me twice a week, and got things wrapped up for me. I still freaking hate lawyers, but if you need one you can trust and who can get things done, this is the guy." 
Posted by Maria S. on Yelp 4/23/2014 Five Stars
YELP Five Stars!
"Mr. Beauchamp has handled numerous matters for my family and myself.  He has always been effective and tenacious on meeting all our needs and getting the results we desired. Mr. Beauchamp's intelligent and wise strategies have been invaluable to my family.  I highly recommend Mr. Beauchamp for any of your legal needs." 
Posted by Natasha H. on Yelp 9/4/2014 Five Stars
Google Five Stars!
Robert Beauchamp is representing me for a child custody case and he has been very helpful and attentive to my case. He makes himself available to me for all the advice and answers I need to handle the circumstances for my case. He is very professional and treats my case not only as another custody case but shows sincerity in that he truly cares. He has guided me through this situation and I would recommend him to anyone out there.
Stephanie S.